Christine Forester Catalyst, (1981—)
Christine Forester works at the intersection of business, marketing and design. She not only connects the dots, she synergizes these three disciplines into a coherent whole.
For her diversified clientele, she provides consultations and services that include: strategic thinking • business plans • marketing plans • corporate identity designs • branding • communication tools • program development • program implementation.
She applies her analytical approach to helping companies and individuals define their paths, structure effective plans of action, design and implement specific programs, and achieve their goals.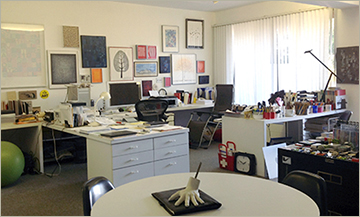 For companies as diverse as a major destination management corporation and a high-end specialty nursery, Ms. Forester developed and designed the business / marketing plans that resulted in the successful sale of these two businesses. She also created and formatted a plan for an industry-wide symposium to help businesses anticipate the economic effects of climate change.
Her active and multifaceted engagement in the business community and her deep commitment to social, cultural, educational and artistic causes and institutions have placed her at the epicenter of broad based network of professionals and community leaders, locally and nationwide. From small to large-scale projects, this dynamic environment impacts the creative approach and practical solutions she brings to bear on each project.
Civic Engagement Obama Foundation / Obama Presidential Center, Design Advisory Team (2015—) • President's Committee on the Arts and the Humanities (2008—) • OFA: Organizing for Action, Board of Directors and Advisory Board (2013—); Organizing for America (2008-12); Obama for America (2007—08) • Democratic National Committee (DNC), National Finance Committee, Vice Chair, (2006-08), Member (2008—) • Common Purpose Project (2008—) • Senator Barack Obama: Arts Policy Committee and Urban Policy Committee; three Leadership Outreach Committees (2007—09) • San Diego County Democratic Party: Chairs Award recipient; keynote speaker, annual gala (2013).
Selected Boards International Savings Bank, San Diego: Advisory Board; Marketing Committee; Retail Bank Strategy Task Force. (1990–94) • Sidney Kimmel Cancer Center and SKCC Foundation, San Diego, Board of Trustees (1991-97, 1999-07). Chair, Governance Committee • Scripps Institution of Oceanography, Director's Council, Member (2010—) • Museum of Photographic Arts (1981–86), Chair: Architectural Committee and Nominating Committee • Museum of Contemporary Art, San Diego, Board of Trustees (1992–98) • The New Children's Museum, Honorary Board (2011—) • San Diego Commission for Arts and Culture, Advisory Panel (1989).
Bibliography Author and illustrator, Let's Face It! (1984) • Co-author, A Waist is a Terrible Thing to Mind (2000) • Author, illustrator Red White and You: a Time to Earn One's Right to Bitch (2014) • Designed, directed and produced a related video.
Background: Architecture Diplôme d'Architecte, Lausanne, Switzerland; thesis: hospital architecture (1964) • Giffels & Rossetti, Architects, Detroit, MI. (1964) • University of Michigan Medical Center, Ann Arbor: investigates the potential for hospital architecture to accommodate constantly evolving medical sciences and technology. Consultant architect for several of the Medical Center's expansion plans. (1965-66) • Bertrand Goldberg, F.A.I.A., Chicago: head of research department for the master plan for New York State University's Health Science Center at Stony Brook, Long Island. (1966-67) • Russell Forester, F.A.I.A., and Associates, La Jolla, (CA): Partner; Managing Partner (1968-78).
Beyond Architecture The Space Factory, a non-profit 501(C)(3) corporation, La Jolla (CA), Founder, Principal. (1979-81) • Recipient of a grant from the National Endowment for the Humanities to develop Space+, a multidisciplinary project, for a series of seven one-hour television programs that explored how people affect the spaces they live and work in, and how those spaces affect them in return.